Our conjecture seems to still hold. Barney makes 5 turns before returning to his original starting point.
Use this
interactive java sketchpad exploration
to observe what happens when the starting point lies on the ray opposite BC. What happens as you move this starting point?
When Barney walks on a path parallel to the sides of the room, he will always return to his starting point. It also appears that as Barney walks his path creates a similar triangle at each vertex.
Let's look at ways to prove our conjecture holds true. One way is by examining the parallelograms created by Barney's path.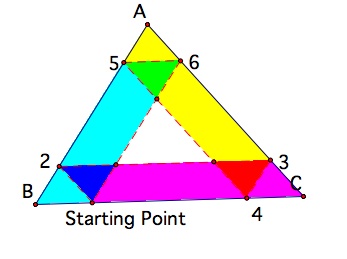 The perimeter of these parallelograms, when the segments that are part of the triangle are excluded, are equivalent to the perimeter of the triangle. Barney will always return to his starting point since his path is the same measure as the triangle.
I
f you would like to explore this proof more on your own,
click on this interactive java sketchpad
exploration
. Drag the starting point and notice what happens the measurements of the perimeters of the triangle and the parallelogram.
Return to my homepage