TAXICAB GEOMETRY
<![if !vml]>

<![endif]>
by
Susan Sexton
<![if !supportEmptyParas]> <![endif]>
<![if !vml]>

<![endif]>
Foundations of Geometry I Project
University of Georgia
Fall 2006
Instructor: Clint McCrory
<![if !vml]>

<![endif]>
<![if !supportEmptyParas]> <![endif]>
Hyperbolas in Taxicab Geometry
<![if !supportEmptyParas]> <![endif]>
The notion of distance is different in Euclidean and taxicab geometry.
This affects what the hyperbola looks like in each geometry.
<![if !supportEmptyParas]> <![endif]>
In both geometries the hyperbola is defined the same:
The set of all points where the difference of the distances from
two fixed points to a point in the set is constant.
<![if !supportEmptyParas]> <![endif]>
In the Euclidean plane the hyperbola looks like:
<![if !vml]>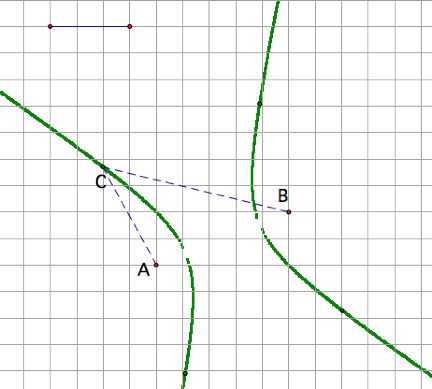 <![endif]>
Here the hyperbola is defined as the set of all points where the AB - AC = 3
GeometerŐs Sketchpad Animation
<![if !supportEmptyParas]> <![endif]>
<![if !supportEmptyParas]> <![endif]>
In the taxicab plane the hyperbola looks like:
<![if !vml]>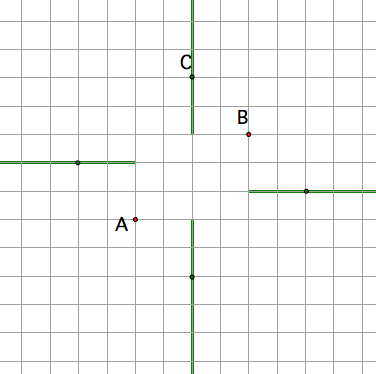 <![endif]>
Here the hyperbola is defined as the set of all points
where taxicab distance AC - taxicab distance CB = 3
<![if !supportEmptyParas]><![endif]> GeometerŐs Sketchpad Animation
<![if !supportEmptyParas]> <![endif]>
<![if !supportEmptyParas]> <![endif]>
<![if !vml]>

<![endif]>
<![if !supportEmptyParas]> <![endif]>