<![if !vml]>

<![endif]>
<![if !supportEmptyParas]> <![endif]>
Something About Me
<![if !supportEmptyParas]> <![endif]>
By Pei-Chun Shih
<![if !supportEmptyParas]> <![endif]>
<![if !supportEmptyParas]> <![endif]>
<![if !vml]>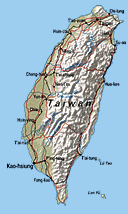 <![endif]>I am from Taiwan, a lovely island country on the western coast of the Pacific Ocean. To the north lies Japan, to the west is China, and to the south is the Philippines. Taiwan, also known as Formosa (from the Portuguese'Ilha Formosa,' meaning beautiful island), is a heaven for more than 10,000 species of plants and animals and a heaven for people who love outdoor activities, such as hiking, mountain climbing, surfing, camping, etc. This is because Taiwan has broad plains almost at sea level to mountains that soar to almost 10,000 feet.
<![if !supportEmptyParas]> <![endif]>
<![if !vml]>
<![endif]>My husband and I came to Atlanta four years ago. The first place we located was Decatur. Then we moved to North Atlanta. Last year, we bought a house in Lawrenceville where we are close to the workplace of my husband. Our daughter, CoCo, enjoys our yard a lot. She likes to sunbath there and greets people who pass by. Oh, I forgot to mention that CoCo is a 3-year-old naughty Maltese who is the only and spoiled child in my family.
<![if !supportEmptyParas]> <![endif]>
<![if !supportEmptyParas]> <![endif]>
On June 1999, I received my B.B.A. in statistics from National Chengchi University in Taiwan. I am pursuing my master degree in Mathematics Education and I want to become a teacher who aids students to be independent in their life-long learning and thinking journeys of mathematics.
<![if !supportEmptyParas]> <![endif]>
<![if !supportEmptyParas]> <![endif]>
<![if !vml]>
<![endif]>Gardening is my favorite activity during my leisure time. I have tones of roses, a camellia, an azalea, and several different kinds of flowers. They bloom vigorously with the alternation of seasons. They have power of soothing my nerve and enriching my life through their vivid and colorful beauty. Traveling is also one of my interests. Visiting and experiencing other cultures widens my eyes and makes me humble toward the world.
<![if !supportEmptyParas]> <![endif]>
<![if !supportEmptyParas]> <![endif]>