---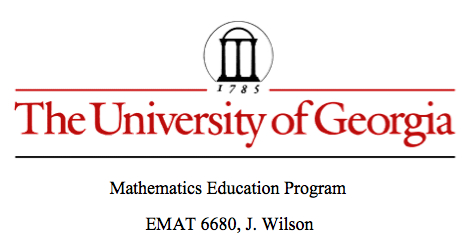 ---
Problem: Find a construction for a point P such that the sum of the distances from P to each of the three vertices is a minimum
by
Ana Kuzle
---
I. Before I could construct such a point I had to find it. I began therefore by exploring this problem by moving the point P. As I was moving point P closer to the sides the sum was getting bigger therefore I was moving it inside the triangle. At some point I stumbled upon the smallest I could discover. You can move the point as well (or let GSP do it for you).
As you can see I measured the angles as well. This gave me an idea. Or more precisely, I had a conjecture: Point P such that the sum of the distances from P to each of the three vertices is a minimum when
.
---
II. Construction of point P is shown bellow.
Steps:
1. construct equilateral triangles on each of the sides
2. connect opposite vertices
3. point P is the intersections of segments in 2.
You can find this steps done in GSP.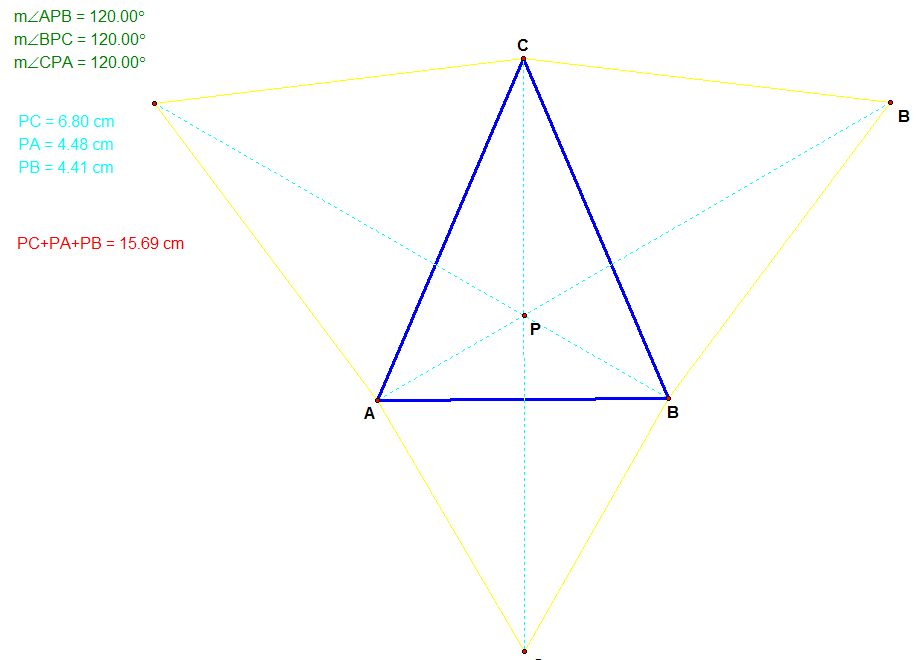 ---
III. Proof.
We know that if the triangle ABC has an angle whose measure is greater or even than 120°, then the point P is outside the triangle or of the vertices of the triangle ABC, respectively. Also, from the construction we have seen that if the measure of all angle is less than 120°, than the point P lies inside the triangle ABC.
Suppose that measure of each angle ABC is less than 120°.

Let's start by extending CP through P, and BP through P. Also, by drawing perpendiculars from A to just obtained segments we get points D and E respectively.

In this way we got two right-angled triangles. But moreover we get that PD=1/2 AP, and PE=1/2 AP since <APE=<APD=60°, and <PAE=<PAD=30°.

Furthermore, CD<AC, and EB<AB since the hypotenuse is always longer than the legs of the triangle. But,

CD=CP+PD=CP+1/2 AP.

And,

EB=EP+PB=PB+1/2 AP.

Thus, AP+BP+CP=1/2 AP+1/2 AP+BP+CP=CD+EB<AC+AB.

Hence, the point P is better than vertex A. With no loss of generality, P is better than B, and C for the same reasons. Therefore, having all angles of measure less than 120° point P gives the minimal sum.
---
IV. I discovered as well that if angles of a triangle are less than 120 then point P is inside the triangle, meanwhile when one of the angles is greater than 120 then point P is outside the triangle.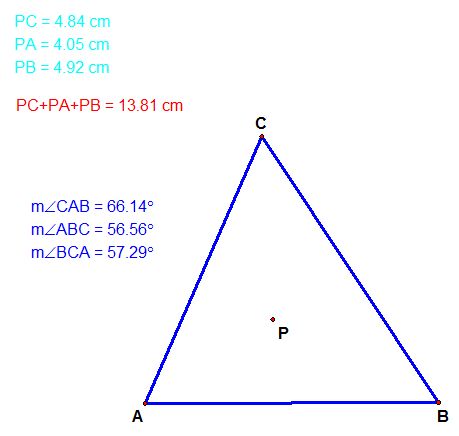 It is obvious that point P is not the minimum then since it is outside the triangle. Where is the minimum then? Well, it is in the vertex whose angle is greater than 120.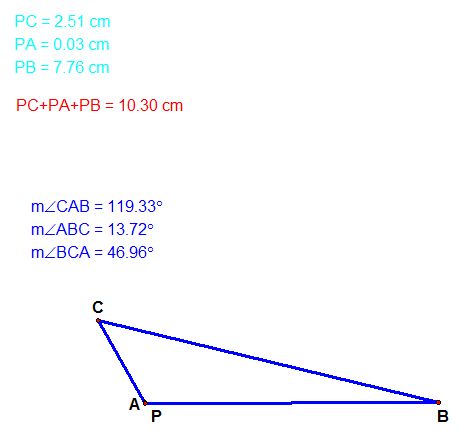 ---