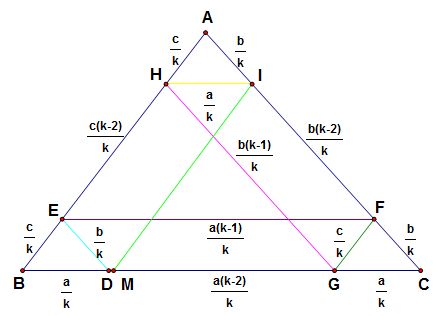 Drawing a parallel to AB through, we get point M on BC. Have in mind that we are trying to prove that the path is finite. That is why we pick another point, in my case point M, If show that D=M, then we have proven our conjecture.
What can we say about triangles ABC, and IMC? Well, they share the same angle at vertex C, and we said that IM is parallel to AB, so we have that <BAC=<MIC, and <ABC=<IMC. Thus, according to AA postulate, triangles ABC, and IMC are similar. The fact that the triangle ABC, and FGC are similar was already proven. Hence, we have that triangles IMC, and FGC are similar as well. Knowing that we can look at the ratio of the lengths of corresponding sides. From that we get,
.
Since
, we get that MC=GC(k-1).
Thus, MC=a(k-1)/k. From that we get,
But, we have shown before that
Since MG=DG, we can conclude that M=D. Thus, we have proven that the path Barney walks has a finite existence. From here we also see that Barney reaches the wall 5 times before returning to the initial point.
Q.E.D..