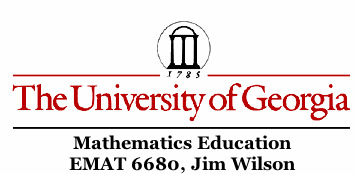 ---
Resume
---
Ryan Shannon
1670 Milledge Ave. Ext. Athens, GA 30605
229.539.5723
---
Seeking a Mathematics Teaching Position
---
PROFESSIONAL PROFILE
• 4+ years of experience in coaching/ leading high school students.

• Strong mathematics educational background.

• Works effectively with diverse groups of people.

• Highly trainable, fast learner. Adapts well to changes and pressures in the workplace.

• Friendly with an upbeat attitude. A proven leader.

• Ambitious and hardworking, committed to excellence.

• Effective oral communicator and natural leader.

• Up to date on the ever changing world of technology.
---
EDUCATION
THE UNIVERSITY OF GEORGIA, Athens, Georgia

Master of Arts in Teaching in Mathematics Education, May 2013

VALDOSTA STATE UNIVERSITY, Valdosta, Georgia

Bachelor of Arts in Mathematics May 2011
---
WORK EXPERIENCE
UNIVERSITY OF GEORGIA ATHLETICS, Athens, GA August 2011- Present

Student-Athlete Mathematics Tutor

• Plan and coordinate lessons for daily tutoring.

• Teach athletes material that is missed when traveling.

• Mentor athletes on life choices in the classroom.

• Create extra material needed to reinforce understanding material.

NATIONAL CHEERLEADERS ASSOCIATION, Dallas, TX Summer 2007 - Present

Summer Camp Instructor Summer (Recently promoted to Head Instructor)

• Travel throughout the Southeastern region of the U.S. coaching High school teams.

• Responsible for leading NCA summer camps of 15-25 cheerleaders

• Communicate with coaches and head offices

• Motivate staff and high school teams with a commitment to leadership

• Administer teams of area schools.

• Maintain a strict daily schedule leading classes.

• Lead teams in training class and life styles.

• Serve as a role model of an American male cheerleader.

GEORGIA POWER VALDOSTA FCU, Valdosta, GA May 2010- 2011

Front-end Teller

• Process monetary transaction of members.

• Organize paperwork and confidential information for each member.

• Monitor and manage accounts of substantial amounts.

• Communicate with members and budget accounts.
---
ACCOMPLISHMENTS
• NCAA Division 2 Cheerleader/Co-captain for the Valdosta State University

• NCAA Division 1A Cheerleader for the University of Georgia

• Student Athlete Honor Roll and Dean's List

• College Cheerleading All-American
---
REFERENCES Available upon request