---
---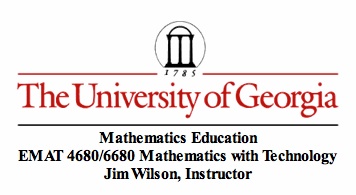 ---
Class Page
for
Angela Lively
---
Send me an e-mail
---
I love math. I love the elegance of an equation, and the simplicity of a solution. I love the mental acuity, perseverence, and passionv required to solve a particular mathematical conundrum.

I currently hold a teaching position at Georgia Gwinnett College, and I am passionate about guiding students toward understanding and skill-building.

Besides math, you will find me involved with my family (wife to one, mother to five), gardening, playing tennis, or reading.
---
Some links I like.
---
---
---
---
---