---
---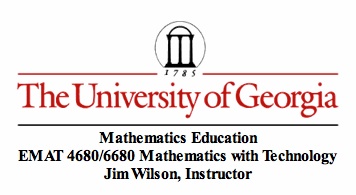 ---
Something about
Donny Thurston
---
My name is Donny, and I'm a wholly uninteresting person, I think.
I'm in the M.A.T. program, coming from an undergraduate degree in Psychology. As a result, my formal math coursework needs a little catch-up, which is being quickly remedied (MATH 3200 this semester). I have, however, completed several graduate level statistics courses (mostly with an emphasis in the behavioral sciences), since I actually transferred from a different graduate program to this one. So if anyone needs help with SEM, CFA or the like, look me up.
I've got little formal teaching experience, but, like many students other here in Math Ed., I have a great deal of informal experience teaching and tutoring. I've worked for learning centers, schools, and privately as a tutor, running a business successfuly enough to provide for my family during my undergraduate work.
I love teaching for teaching's sake, for nearly any subject. I'll take every chance, and, while results may vary (naturally), I've never had a teaching experience I do not look back to fondly.
I'm married and we have a two-year old little girl who is amazing. I also play video games when I get a chance, which is not quite as often as it used to be.
---
---
---