---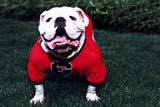 Tim Lehman
---
I am a masters' student in Mathematics Education at the University of Georgia. I graduated in the spring of 2000 with a degree in Mathematics from UGA. My future plans include getting married in July and owning a dog. My Pez collection has reached over 50 and continues to grow. Many of the Pez have been gifts from my old roommate Ryan. I enjoy sleeping and eating. I currently enjoy teaching high school mathematics at Loganville High School.
Before moving to Athens, I lived in Cairo, GA, where my parents still reside. I have one older brother,T.J., who lives in Baltimore.
Two of the cooler things I did at UGA was getting involved with UGA Habitat for Humanity and the Geology and Anthropology Summer Field Program. While participating in these two things, I met my fiance Salli. Salli and her roommate Agatha live in an apartment downstairs from my roommate Stacy (pictured here with my old roommate Stepler) and me. I student taught last semester at Apalachee High School with Becky Dragan and Melissa Sherwood. Melissa and my favorite book can be found here. Other people I have met in the Math Ed program are Keith, Andy, and my cousin Chris.
---
RETURN to my page