MATH 7210 : Foundations of Geometry II
University of Georgia, Spring 2001
Dr. McCrory, Instructor
---
Spherical Symmetry
---
Examples of spherical symmetry in architecture are rare because humans must walk on horizontal planes. Most architecture that exhibits spherical symmetry does not utilize a whole sphere but is built to appear spherical by using other shapes.
Resource: Williams, Kim (1998). Symmetry in Architecture. (http://turing.mi.ssau.ac.yu/vismath/kim/)
---
Example 1: US Pavilion at Expo '67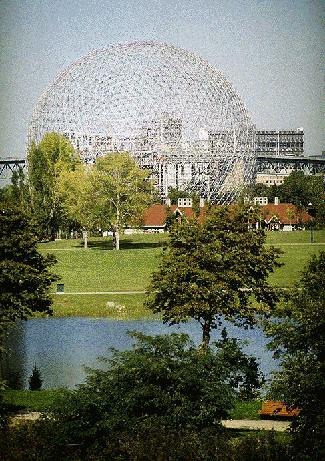 Location: Montreal, Canada
Architects: Buckminster Fuller and Shoji Sadao
Building Type: Exhibition hall
Symmetry: The exhibition hall was built to resemble a sphere by using interlocking triangles.
Resource: GreatBuildings.com (http://www.GreatBuildings.com/buildings/US_Pavilion_at_Expo_67.html)
---
Example 2: Newton's Cenotaph
Location: Never built
Designer: E.L. Boulee
Building Type: Monument
Symmetry: This monument could never be built because it contains a perfect sphere!
Resource: ArtServe at Australian National University (http://panoptic2.anu.edu.au/search/cache.cgi?collection=anu-crawled-external&doc=http://rubens.anu.edu.au/htdocs/surveys/modarch/byarch/display00055.html)
---
Example 3: Spaceship Earth at Epcot Center
Location: Lake Buena Vista, Florida
Architect: ???
Building Type: Exhibition and ride
Symmetry: The outer shell of the ride was built using triangles.
Resource: Disneytyme.com (http://disneytyme.com/Epcot.html)
---
Go to Translational Symmetry (Back)
Go to Combinations of Symmetry (Next)