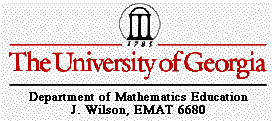 Partitioning a Line Segment
Using Rectangles
(1/3's,1/5's,1/7's,and Even Partitions)
by
Troy Morris
---
Given line segment AB, construct perpendicular lines to the segment through the given endpoints. Choose a point D above the segment on either perpendicular and construct a parallel line to segment AB.
---
Next, label the remaining intersection point D and construct segments AD,DC, and BC. You may also hide the lines to finalize your construction of a rectangle.
---
Construct the midpoint of segment CD and label it M. Construct segments DB and AM. Label their intersection point G.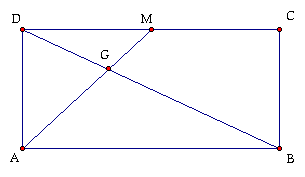 ---
Construct the perpendicular line segment from G to segment AB. Label this point X.
AX = (1/3)AB
Click Here for the proof.
---
To continue on bisecting the segment,click on the following:
1/5's
1/7's
---
The even partitions are constructed by using the same procedures as above. The only difference coming with the construction of A to the midpoint of DC. That line segment should simply be another diagonal, AC, intersecting the diagonal BD. From there, the order of partitioning the segment remains constant to that above.