---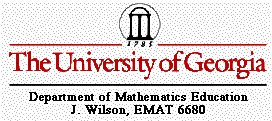 By nami youn

---
Resources
---
Internet
---
Michael's Crazy Enterprises, Inc., The Golden Mean (http://www.vashti.net/mceinc/)

The Golden Ratio (http://www.math.csusb.edu/course/m128/golden/)

Ron Knott, The Golden section ratio : Phi (http://www.ee.surrey.ac.uk/Personal/R.Knott/)

The Golden Ratio (http://library.thinkquest.org/C005c449/)

Ron Knott, Fibonacci Numbers and Nature-part 2, Why is the Golden section the "best" arrangement?
(http://www.mcs.surrey.ac.uk/Personal/R.Knott/Fibonacci/)

Ron Knott, The Golden Section in Art, Architecture and Music (http://www.mcs.surrey.ac.uk/Personal/R.Knott/Fibonacci/)

Steve Blacker, Jeantte Polanski, and Marc Schwach, The Golden Ratio (http://www.geom.umn.edu/~demo5337/s97b/)

Ethan, The relations of the Golden ratio and the Fibonacci Series (http://mathforum.org/dr.math/problems)

Golden Section in Art and Architecture (http://www.camosun.bc.ca/~jbritton/goldslide/)

Sheri Davis and Danny Rhee, Mathematical Aspects of Arichitecture
(http://www.ma.uyexas.edu/~lefcourt/SP97/M302/projects/lefc023/)

Mathematics and Art (http://www.q-net.au/~lolita/)

Leonardo da Vinci (http://libray.thinkquest.org/27890/)

Math & Art : The golden Rectangle (http://educ.queensu.ca/~fmc/october2001/)

Sue Meredith, Some Explorations with the Golden Ratio ( http://jwilson.coe.uga.edu/EMT668/)

What is a Fractal? (http://ecsd2.re50j.k12.co.us/ECSD/)

Ron Knott, Phi's Fascinating Figures (http://www.euler.slu.edu/teachmaterial/)

Cynthia Lanius, Golden ratio Algebra (http://math.rice.edu/~lanius/)

Newsletter, Mathematical Beauty (http://www.exploremath.com/news/)

Some Golden Geometry (http://galaxy.cau.edu/tsmith/KW/)

---
Book
---
Robert L. (1989). Scared goemetry: philosophy and practice, New York: Thames and Hudson.
---
Article
---
Donald, T. S. (1986). The Geometric Figure Relating the Golden Ratio and Phi, Mathematics Teacher 79, 340-341.
Edwin, M. D. (1993). The Golden Ratio: A good opportunity to investigate multiple representations of a problem,
Mathematics Teacher 86, 554-557.
Susan, M. P. (1982). The Golden Ratio in Geometry, E. M. Maletsky, C. Hirsch, & D. Yates(Eds.), Mathematics Teacher
75, 672-676.
---
---