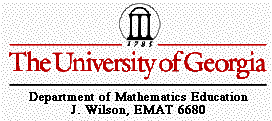 ---
I received a Bachelor of Science from the University of Louisville in 1996 and obtained a Master of Arts in Teaching from Bellarmine College in 2000. I have taught in the public schools for 3 years.
I am currently working on a Specialist Degree in Mathematics Education at the University of Georgia and my areas of interest are improving middle school student mathematics performance, curriculum, high school topics, and mathematics for students with learning disabilities.
During the 2000-2001 school year I taught Mathematics and Social Studies in regular, collaborative and resource settings at Oldham Co. High School in Buckner, KY.
I have taught Mathematics and Science at Russell Middle School in Winder, GA since August 2001.
Some classes in I have instructed or guest taught were, Integrated Mathematics, Pre-Algebra, Algebra 1, Euclidean Geometry, Applied Mathematics, Algebra 2, Precalculus, AB @ BC Calculus, Earth Science, World Civilizations, Civics, Geography, Justice Studies/Current Events.
I have also worked as a therpeutic counselor for Seven Counties Mental Health Services for elemetary school children in Louisville, KY.
Other areas of interest are criminal law & evidence, corrections & rehabilitation, criminalistics, constitutional and administrative issues, comparative justice systems and criminal justice theory. I have done research in areas of public awareness of crime, battered women's syndrome as a defense to murder, intensive supervision probation, due process, and ethical decisions by American Courts.
---