---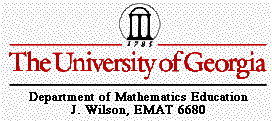 ---
Biographical Information
for
Donna Greenwood
---
---
I'm a master's student in the math ed. program. I'm changing careers, from serving in various capacities in the IT industry to teaching high school math. Career change, mid-life crisis, call it what you like..
In any case, I'm thrilled to be here at UGA for a second time, after earning my B.S in Computer Science from this esteemed institution quite a few years ago.
When I'm not in class or studying, I'm a regular soccer/swim team/Scouts mom for my three wonderful boys. I'm also married to my best friend, Robert. We all live in Lawrenceville, GA and cheer for the Collins Hill Eagles!
---
---
---
Return to Donna's EMAT6680 Page
---