---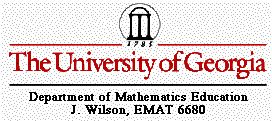 ---
Class Page
for
William (BJ) Jackson
---
Send me an e-mail at:
BJ_Jackson@gwinnett.k12.ga.us (During the school year)
---
For Students of Mr. Jackson. Click on the links below to find your homework assignment and the weekly bonus assignment.
---
---
Some links I like.
---
Write-up #1: Graphing Functions and Relations
Write-up #2 : Explorations with Second Degree Equations
Write-up #3: A fresh look at quadratic equations
Write-up#4: Centers of Triangles
Write-up#5: Making and Using Scripts
Write-up#6: Problems
Write-up#7: Tangent Circles
Write-up#8: Altitudes and Orthocenters
Write-up#9: Pedal Triangles
Write-up#10: Parametric Equations
Write-up#11: Polar Equations
Write-up#12: Mathematics Problems and Explorations with Spreadsheets
Misc. Write-up: Some relationships between a given Triangle and its Medial Triangle
---
---
---
EMAT 6690
1. 10-Day Lesson: Click here to link to the daily lessons for Chapter 5.
2. Mathematics in the workplace: The Encology Office. A discussion of how mathematics is used by everyone that works in an encology office.
3. The Theorem of the Broken Chord. A proof of the theorem and some extentions of it. Click here.
4. The Revolutions of a Circle. A look at the number of revolutions it takes one circle to travel around the circumference of a given circle. Click here.
5. Napolean's Triangle. A proof of Napolean's Triangle. Click here.
6. Missing Block. Click here.
---
EMAT 6700
A Supplement designed to incorporate technology into Tech Math I. A course that it taken by freshmen in the school system that I teach in. It will use technology to help explain topics and as an assignment extention. Click here to go to the supplement.
---
EMAT 7050
Click here to link to my assignments for this class.
---
EMAT 6000
These are lessons and explorations to supplement the Algebra II class that I teach at Berkmar High School in Gwinnett County. Topics include: Solving systems of equations graphically, linear programming, parametric equations, solving quadratic inequalities, conics, polynomials, and some graphs. Click here to go to the main page.