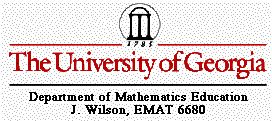 ---
BJ's Brief Biography
---
I am a graduate student at the University of Georgia in the Mathematics Education Department. I have been teaching for 5 years and am currently employed at Berkmar High School in Gwinnett County. Along with teaching Algebra I and Tech Math I, I am also the varsity volleyball coach.
My wife Kelly and I have been married for 6 years. We do not have any children, but we do have 2 cats, Jorgan and Bobbie.
My interests include: golf, football, volleyball, college basketball, tennis, and reading.
---