---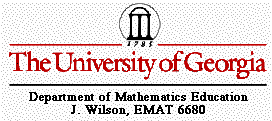 ---
Class Page
for
Kevin Nooney
---
Send me an e-mail at knooney@coe.uga.edu
---
"Nature has established patterns originating in the return of events, but only for the most part."

Jacob Bernoulli
---
"Doubt everything or believe everything: These are two equally convenient strategies.
With either, we dispense with the need for critical reflection."

Henri Poincare
---
"Beer is proof that God loves us and wants us to be happy."

Ben Franklin
---
k
Bits & Pieces: Resources Pre-Algebra & Algebra-1
k
---
Take a Look at these Links
Quotations

Mathematical Quotations (Furman University)

More Mathematical Quotations

A Few More Mathematical Quotations

Scientific Quotations

More Scientific Quotations

Philosophical Quotations
{Randomly Generated - Visit here often}

Interesting, Fun, and Just Plain Silly

Fun with Math

Fractal Cartoon @ mathcomics.com

History of Number cartoon @ mathcomics.com

Math in the Comics (Listed Alphabetically by Comic Name)

Math in the Comics (Listed by Mathematical Idea - kind of)

Mathematical Humour

Mathematics and the Arts

International Society for the Arts, Mathematics, and Architecture

Helaman Ferguson

MC Escher

Galileo and Perspective (An Historical Discussion)

{More to Come}

Mathematics and History

MacTutor History of Mathematics Site -- St. Andrew's University

History of Mathematics In Education

History of Mathematics Education

{More to Come}

Mathematics and Philosophy

Philosophy of Mathematics Education

{More to come}

Mathematics and Cognition

The Mathematical Brain

{More to Come}

Other Connections

Math in the Movies

Math and Mathematicians in Fictional Literature

Mathematical Fiction

{More to Come}
---
---