---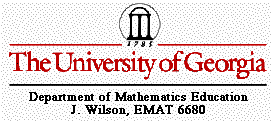 ---
Some information about me
---
Welcome to This page. This is Kaori Tabeta's Page.
This summer I came from Japan to paticiate this EMAT 6680 and EMAT 6600 classes at UGA. Now, I stay at the hotel near here for two months.
I am a graduate student in the department of mathmatic education at the Tokyo Gakugei University. The thema of my study is the mathmatic teaching materials using dynamic geometary softwares (like GSP) in secondary school, for 3 years. I hope to teach mathmatics in junior high school.
I live in the old downtown of Tokyo with my mother and little sister and niece. My cute niece, Mitu is only 3 years old. In Japan, we call the porson who live in the old part of Tokyo "edo-kko". So, I called eddo-kko sometime. Near my home, there are some amusement spots, like "Tokyo Disney Resort ","Odaiba" and "Ryougoku Kokugikan" . "Tokyo Disney Resort"have two thema park, "Tokyo Disney Land" and "Tokyo Disney Sea", and there are many Hotels and several shopping mall there. "Odaiba" is seaside amusement spot . There are many shopping mall and the most popular TV station there. "Ryougoku Kokugikan" is stadium of sumo wrestling. If you come to Tokyo , I will guide you. Then please hear for me. Tokyo is a center of fation. Of course, I love shopping. Another my interests are going to trip, singing at karaoke, plaing tennis, badminton, golf, cooking and Japanese flower arrangement.
In this June all my friends of Tokyo are exciting about FIFA World Cup Korea/Japan. I am exciting about Technology.
---