---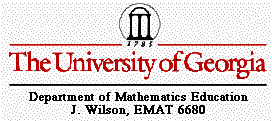 ---
About
Julia Neal
---
I completed my Bachelor of Science in Mathematics at Oglethorpe University. While there, I completed Internships with Merrill Lynch, the CDC, and the IRS.
I am currently a student at the University of Georgia. During the school year I am most often found in the classroom, but not as the student, as the teacher! I teach Mathematics in Fulton County. I have taught in Fulton County for two years, and this fall I will begin my second year at Northview High School.
At Northview, I teach Geometry and Applied Algebra. I also serve as the Math Team Sponsor to both the JV and Varsity Teams. In our charter year, the JV math team had team members who took first and second place in both the cyphering and individual rounds. The JV math team placed second overall. With only two members having calculus experience, the varsity team was at a serious disadvantage, but held their own. Both teams are planning for a victorious second year.
---
Return