---
Final Project
by
Melissa Silverman
---
Consider any triangle ABC. There is a point P in inside the triangle. Connecting vertices A, B, and C to point P creates points D, E, and F.
---
Now consider lengths AF, BD, EC, FB, DC, and EA. (AF)(BD)(EC)=(FB)(DC)(EA)!
The product of the ratios of these compliments is always 1.
---
When P is moved outside the triangle, the same property holds. To move Point P in the construction, CLICK HERE.
When P is brought outside of triangle ABC, points D, E, and F can be moved outside of the line segments that make up the triangle and onto the extended lines of the sides of the triangle.
---
The ratio of the areas of triangles ABC and DEF are affected by the position of P. As P moves closer to the sides of triangle ABC, the ratio of the areas becomes greater. The ratio is equal to 4 when P is on the centroid of the triangle, dividing the triangle into 4 triangles of equal area. If P is moved outside of the triangle, triangle DEF becomes larger than triangle ABC and the ratio becomes smaller. To use the construction yourself, CLICK HERE.
As P is moved to the centroid...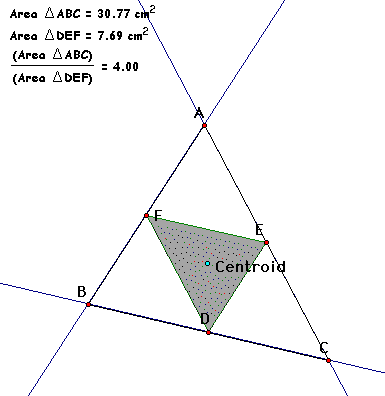 As P is moved outside triangle ABC...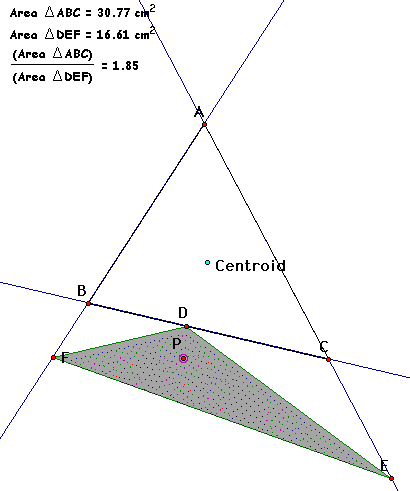 ---
Home
---