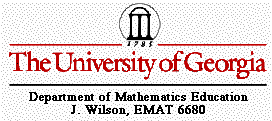 ---
Biographical Information
for
Kirk Braunius
---
I am a student in the math education program at the University of Georgia. I have a BA in math from William Paterson University in New Jersey.
I have had careers as an actuary (13 years) and a New Jersey State Trooper (7 years). I have owned an engine installation business called Engine Exchange since 1998. Click to see a picture of Engine Exchange.
I am a big high school football fan, and have attended over 70 consecutive Brookwood High School games (not counting over 60 youth and freshman games my son Ted has played in).
My oldest son Trevor is in the Marine Corps. Click HERE to see him on the left and his friend Joe on the right. This is a picture of me, my wife Bonnie, and Trevor.
My middle son Ross just "graduated" from home school, and is about to start college.
My youngest, Ted, just finished his sophmore year at Brookwood High School. Here is a picture of Ted from the summer of 2003.
My hobbies include watching football, ham radio, and running.
---