About Me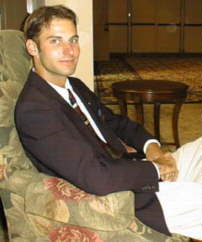 My name is Jon Challen, and I am an undergraduate Mathematics Education Major at the University of Georgia. I'm a Senior with a little less than one year to go! I am currently living in Snellville with my parents to save money so I don't have to work during student teaching. I am currently taking the following classes at UGA this semester: EMAT 4360 (Methods), EMAT 5360 (Field Experience), EMAT 3450 (Practicum), MATH 4670 (Combinatorics), and STAT 4070 (Statistics for Teachers). My field experience and student teaching will be at Collins Hill High School in Suwanee. My mentor teacher is Derelle McMenomy. Last year, I was her long-term substitute teacher when she had her baby, Colin.
I am a former high school and year-round swimmer. Currently during the summers, I coach a recreation league swim team called the Snellville Supersonics. I also enjoy backpacking in North Carolina. My favorite place to hike and camp is the Nantahala National Forest, which is in southwestern North Carolina.
I own my own business called J & D Productions. It is a mobile disc jockey service, which keeps my schedule very busy over the weekends. Currently, I am working regularly at a night club called The Plush Lounge in the Buckhead District of Atlanta, right across the street from the Cheesecake Factory. I'm there every Saturday night from 10:00 pm to 3:00 am spinning mainstream and house music. If that's your thing, come on out.
---