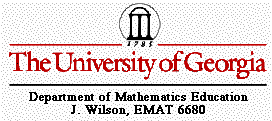 ---
An Exploration of Tangent Circles
Sarah Mason
---
What does it mean to say that two circles are "tangent"?
Click Here to see the definition of Tangent.
---
In today's lesson, here is the problem we are going to explore:
Given two circles and a point on one of the circles, construct a circle tangent to the two circles with one point of tangency being the designated point.
---
Where do you think the center of the tangent circle might lie if the point of tangency is designated to be located on the larger circle?
---
How would you construct this tangent circle?
Click Here to see a GSP script.
---
What observations can you make about tangent circles in general?
Click Here to see several interesting observations made by the author.