---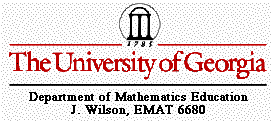 ---
Shanti Howard
Hujambo!! I am Shanti Howard. The proper pronounciation of my name is Shaunta (the "a" at the end makes the long a sound). My mother got my name from my Godmother who got the spelling from Hindu...it means peace. The way my name is pronounced comes from French, which means "to sing." So get it right or else:-)
I am currently working on my specialist degree in Middle School Math Education at the University of Georgia in Athens. I graduated from UGA in 1997 with a degree in middle school math education. I also received my Master's degree from UGA in the summer of 2000. I am a full time teacher, a full time student and a full time face painter (during game season) at the ball games in Atlanta. I guess you could say that I am a work-a-holic! I love school - both of them, but of course there are many times when they both "try" me. I mean this in all capacities of the word. I am hoping to finish my Specialist by summer 2002 because I want to begin work on my Ph.D. I would like to do further research on one of the following topics (my topics are continuing to grow): multicultural mathematics, leadership, or technology. All are of great importance to me and my career, but I am not certain how I will accomplish this. Any suggestions as to what I should study then? Send me an email to let me know. I would definitely appreciate it.
I teach at Richards Middle School in Lawrenceville, Georgia. The school is filled with pretty nice people - loving, caring, and sharing. I know that if I ever needed a helping hand, my colleagues will be there to stand by my side.
I have wonderful teammates - Jane Baker and Becky Mathews!