Final Assignment
by Beverly Hales
---
Consider any triangle ABC. Select a point P inside the triangle and draw lines AP, BP, and CP extended to their intersections. Explore the (AF)(BD)(ED) and (FB)(DC)(EA) for various triangles and various locations of P.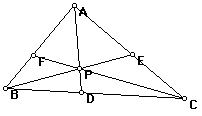 (AF)(BD)(ED) / (FB)(DC)(EA) =1
The ratio of these two products will equal 1.
---
In order to prove this conjecture, we refer to the
Theorem of Ceva
The Theorem of Ceva follows from the Theorem of Meneluas.
The Theorem of Meneluas stated,
Given a Triangle ABC and points D on BC, E on CA and F on AB that do not coincide with the vertices of the triangle, the linearity number is determined by
[ABC/DEF] = (AF/FB)(BD/DC)(CE/EA)
---
When applying the Theorem of Menelus, the order of the points in the ratios are very important. The segment is viewed as a vector such that direction to and from the point are assigned positive and negative values.
Unlike lengths of segments, AB does not equal BA; instead, AB = -BA.
---
Using the linearity number to state the Theorem of Ceva is as follows:
Three lines are concurrent or parallel if [ABC/DEF] = 1.
---
There are two options to consider with the linearity number equal to 1. We can use an indirect proof by considering the possibility that the lines are parallel:
If D lies on BC, E lies on AC and F lies on AB, draw BC//AC//AB.
This is impossible by definition of parallel lines. Parallel lines are lines that do not intersect or share a common point. AC and AB share a common point at A, and BC and AC share a common point at C, and BC and AB share a common point at C.
The lines cannot be parallel, therefore, they are concurrent.
---
This theorem also applies if point p is outside the triangle. In order to show this relationship, I made the triangle using lines so that intersections would still occur even when the point was not in the interior of the triangle.
---
When P is inside the triangle, the ratios of the areas of the original triangle and the triangle formed the intersection points is always more than 4.
---
In order for the triangles to have a ratio equal to 4, the interior triangle formed by the intersection point would have to be 1/4 the size of the original triangle. This will occur when the original triangle is equilateral and the point P is the centroid.
---
Return to Home Page