---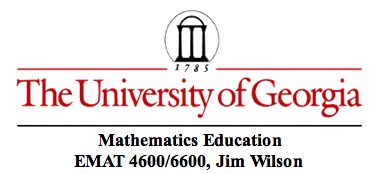 ---
Squares Inscribed in a Right Triangle


---

Figure 1 and Figure 2 each show a square inscribed in a right triangle. Assume the triangles, both labeled ABC, are congruent, or two copies of the same triangle.

---
2a. Show that the length of the side s of a square instcribed in ANY triangle with one side along a base is one-half the harmonic mean of that base and the altitude to that base.

2b. Show a geometric construction for the inscribed square in ANY triangle with one side along a base.
---

3. Which of the two squares has the largest area? For example, here are two expressions for the area of triangle ABC and each can be solved for the length of the side of one of the squares in terms of a, b, c, or h.







---
4. Will the largest square always be the same orientation for any right triangle? That is, will one of the two triangles always be the largest?

Hint: Write an expression for and evaluate to see if this this expression is always positive, always negative, equal, or not determined.
---
5. Suppose in the right triangle ABC the square of side length s inscribed in the right angle has an area of 441 and the square of side lenght x inscribed along the hypotenuse has an area of 440.

Find the length of AC + BC.

Problem sent by Mark Lipson. Lexington, MA from the 1987 AIME high school mathematics contest.

---
Return to the EMAT 4600/6600 Page.

---