---
---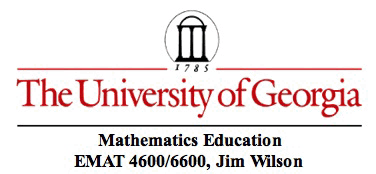 ---
Sum of the Reciprocals of Powers of 2
---
This explorations asks for alternative ways of finding the sum of the reciprocals of powers of 2. That is, find S when

S is a convergent infinite series. Find multiple ways to show this sum.

Suggestions:

A. This is a geometric series with a common ratio less than 1. Need HINT?

---

B. Show with a direct proof. Need HINT?

---

C. There are 10 kinds of people in the world -- those who know binary and those who do not.

Need HINT?

---

D. Use similar triangles. Construct a set of squares side by side with each consective square half the side length of the previous. Let AC = 1 and CD will equal S.

Need HINT? (probably not . . .)

---

E. Other?
---
Devise activities for helping middle school students develop an INTUITIVE understanding of how this sum gets closer and closer to 2 as more terms are added. That is, how does the fact that this sum is 2 make sense to them?

For example, at the right are the first 10 partial sums.

Click HERE for an Excel file
---
What is the value of knowing alternative proofs of this sum?
---
---
---