---
---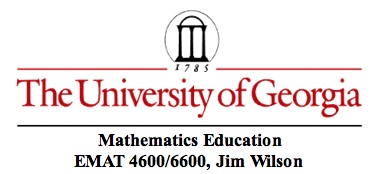 ---
Triangle Areas
---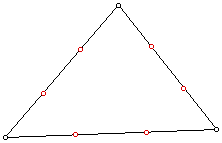 Take any triangle and divide each side into three equal segments.


Connect each vertex to the first one-third point on the opposite side going around the triangle in the same direction. As follows:

What can be said about the triangle in the center formed by the three intersection points of the internal segments?

Similar? It easy to see with a GSP sketch that a counterexample can be generated. Click here for a GSP sketch. Drag one vertex to see how the shape of the small triangle varies as the shape of the large triangle changes.

It is, for example, easy to show a right triangle in the center when the large triangle clearly is not: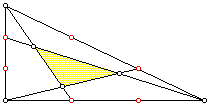 or a right triangle for the large triangle where the center triangle is clearly not a right triangle:
What about the ratio of the two areas?



---

1. Show that the center triangle has its area is one-seventh of the area of the original triangle.

Comment: If the connecting lines are drawn to the "2/3 point" rather than the "1/3 point" we should get the same ratio.



---
2. If both triangles are constructed, the overlap is a hexagon. What is the ratio of the area of this hexagon to the area of the original triangle?
---
3. Repeat the problem dividing each side into fourths.

---

4. Generalize to n sections on each side.

---





5. Repeat the construction with a triangle formed by lines and let the cut points be on the extensions of the sides:
Investigate . . .

Make a GSP sketch to animate the cut point along the three sides proportionally.
---

6. Develop a function for the ratio of the areas of the two triangles as the number of sections on each side increases. Plot the function.




---

7. (From Herb Bailey) Show that the two triangles have the same centroid
Here is a sketch with the medians of each triangle drawn.
Click here for an animated GSP sketch to investigate the centroids.
---
Reference:

Steinhaus, H. (1950) Mathematical Snapshots. Oxford: Oxford University Press.
---
Return to the EMAT 4600/6600 page
---
---