<![if !supportEmptyParas]> <![endif]>
<![if !vml]>
<![endif]>
The Department of Mathematics Education
J. Wilson, EMAT 6680
<![if !supportEmptyParas]> <![endif]>
By Victor L. Brunaud-Vega
<![if !supportEmptyParas]> <![endif]>
Let us try the equation x2 + bx +1 =0
In order to graph the equation using the software Graphing Calculator, we must replace b and use y. Here is the graph where x=y=1.
<![if !vml]>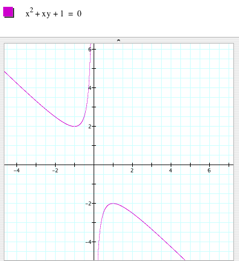 <![endif]>
If we give a different value to y, we are adding a line to the graph, parallel to the x axis, and possibly intercepting the curves. The picture shows graphs for different values of y, in this case -3, -2, -1, 0, 1, 2, and 3.
<![if !vml]>
<![endif]>
If the line intersects the curve in the xb plane, the intersection points correspond to the roots of the original equation for that value of b.
<![if !vml]>
<![endif]> <![if !vml]>
<![endif]>
For each value of y we get a horizontal line. In the graph, for b=y=3, we get two negative real roots of the original equation:
x=-0.381966 and x= -2.61803
Another observation is that there is no roots when the value of b=y is between 2 and -2.
Now, if we change the value of c=1 to c=-1, the graph includes a new set of parabolas, as you can see in the picture below.
<![if !vml]>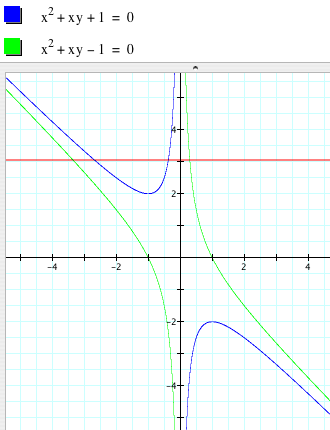 <![endif]>
So, what happens if we try different values for c?
<![if !vml]>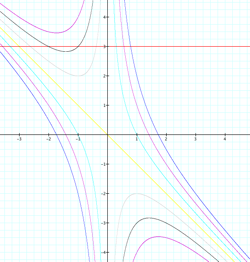 <![endif]><![if !vml]>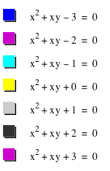 <![endif]>
When the value of c=0, the curve becomes a straight line and crosses the origin of the system (0,0).
Now, what happens if 2x + b = 0? See the graph below.
<![if !vml]>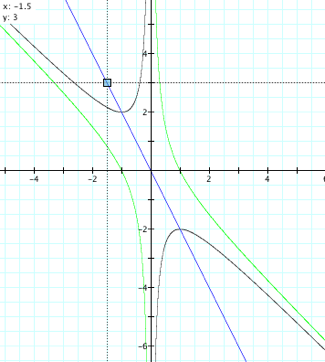 <![endif]>
According to this graph:
<![if !supportLists]>· <![endif]>For the equation x2 + bx +1 = 0 we have two solutions: (-1,2) and (1,-2)
<![if !supportLists]>· <![endif]>For the equation 2x + b = 0, if b=3 the line intersects the straight line parallel to the x axis at (-1.5, 3)
<![if !supportEmptyParas]> <![endif]>
<![if !supportEmptyParas]> <![endif]>