---
---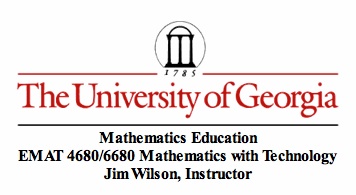 ---
Colleen Foy
---
My name is Colleen Foy. I graduated from Georgia College in May 2013 with a bachelor's degree in mathematics with a teaching concentration. I am currently working on my ME.d in mathematics here and plan to finish in August of 2014. My future goals are to teach high school and hopefully coach soccer and cross country. I have played soccer since I was nine years old, and I ran cross country all four years of high school as well. I love doing races. In March I participated in the Spartan race and I hope to do a half marathon in the near future. I worked as a math tutor at Georgia College and plan to do some tutoring here as well.
I was originally born in Indianapolis, Indiana but moved to Buford, Georgia when I was in the second grade. I have a 19 year old brother, Sean, who just started his second year of college. He is attending Georgia College as well. My brother and I both worked at the same Chick-fil-A for a few years. It is located at the Mall of Georgia so maybe you have seen me there! My mother, Lisa, works with a special education program called STRIVE. This program is for special needs students who have just graduated high school. She helps them at a variety of job sites in hopes that they will get hired after they turn 22. My father, John, is an estimator for a new home builder in Conyers.
I love to travel. In May I had the opportunity to visit family in Ireland. I also got to go to Italy, France, Malta, and Spain. Eventually, I want to live somewhere other than Georgia. I would like to live at the beach at some point. I love Georgia and I am really excited to be here for the next year!
---