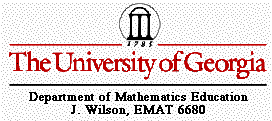 EMAT 8990
by
Doug Westmoreland
---
Slope, Rise and Run, Lines
Here are some sample sketches taken from Exploring Algebra that deal with rise and run, point slope, slope intercept form of lines, and line forms. Again, these sketches can be use to supplement these ideas when presented to the students for the first time. It will really be a great visual help that a teacher can use to explain topics dealing with lines.
Click here for rise and run
Click here for point slope
Click here for slope intercept
Click here for various line forms
---
There are many other sketches and activities that are in the Exploring Algebra workbook dealing with lines.
---
Return to Topics in Algebra Using GSP Page
Return to Home Page
---