---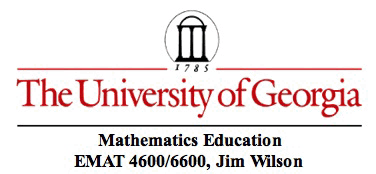 ---
This problem investigates one connection between the Golden Ratio and the Fibonacci Sequence.

The Fibonacci Sequence 1, 1, 2, 3, 5, 8, 13, 21, . . . begins with F(1) = 1, F(2) = 1 and nth term, n > 2 is denoted by
F(n) = F(n-1) + F(n-2).
Create a Spreadsheet to generate the Fibonacci Sequence.

See the Sublime Triangle for one derivation of the Golden Ratio.
We have and setting the equations

can be used to find . Now, use the first equation to generate a sequence of positive powers of the Golden Ratio: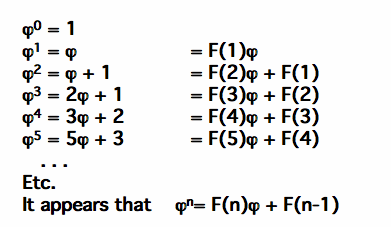 Verify each of these by pursuing the relevant algebra, e.g.

PROVE with Mathematical Induction:
---
Find the sequence of powers of

for NEGAGIVE integers.
Begin with

Continue and create a general expression to prove by mathematical induction.
---
---